Boarding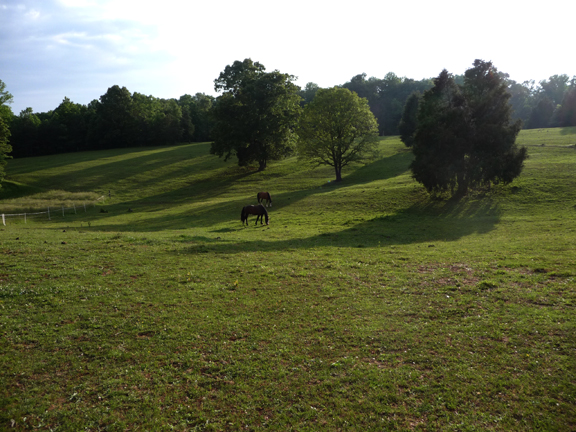 We are not a large, busy boarding barn. We only do field board and have a few select adult boarders who want to enjoy their horses in an oasis of splendid quiet, away from traffic noise and workplace drama. If you like dressage, you'll love the footing and mirrors in the indoor. If it's endurance riding or eventing, the trails will give your horse a great workout and keep your training from being boring. If you just like to ride, you might like it here.
Board is $300 May through October and $350 from November through April.

Enjoy the same great facilities you would expect of stall board while giving your horse the freedom s/he loves. Check out our "Facilities" page for details.
There are large grass pastures for your horse's delight with lots of room to run and other horses for a herd to call his own.
The well being of the horses is the highest priority and the horses are all on a regular schedule for deworming and shots. Some seasonal vet-recommended vaccinations are required and may be administered by owner or vet, others are optional. A current negative Coggins is required for new horses.
The horses are all fed 1x or 2x a day (depending on the weather/quality of pasture) on top quality feeds. They are tied at their own buckets which assures that each horse gets his supplements and the right amount of feed. This also gives us the opportunity to check on your horse's health and well-being. We provide our own excellent orchard grass hay all winter long, and in the summer if the grass is insufficient. Automatic waterers in the pastures ensure that the horses have cool water in summer and ice free water in winter. Fly predators in fly season.
Field boarders have full use of all the facilities that are here. That includes the climate controlled tack room to store your saddle and bridle. There is also room to store your other essentials. The tack room is inside our 5-stall center aisle barn where you can groom and tack up your horse before your ride. After riding when your horse is hot and sweaty there's warm water to wash your horse.
If for any reason your horse needs to spend a few nights inside, a stall can be made available for additional charge.
Convenient to several show venues, Spyder Lake Farm caters to adults who want to pursue their passion for horses in a quiet, serene oasis.